Meet Dr. Higley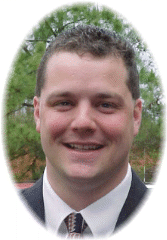 Dr. Higley himself was first treated by a chiropractor for a sports related injury he suffered while attending high school. After a few adjustments by a chiropractor, the pain was relieved. That was when Dr. Higley decided he wanted to be a chiropractor and commit himself to helping others receive the same type of care from which he had benefited.
A native of Petersburg, Dr. Higley obtained his Associate of Science degree at Richard Bland College. For four years he lived in the Davenport, Iowa area where he obtained his Bachelor's of Science and his Doctor of Chiropractic Degrees. At Palmer College of Chiropractic, Dr. Higley learned the Palmer technique of spinal adjustment. He also attended many extra-curricular seminars in sports injuries and extremity adjusting. While at Palmer College, Dr. Higley was active with the International Chiropractic Association, the American Chiropractic Association, the Palmer Student Alumni Foundation, and the Sports Injury Club.
Extra curricularly, while attending Palmer, Dr. Higley was a photographer for the student newspaper, a Palmer Veteran Association volunteer, and vice president of the Palmer Soccer Club. He participated as an interviewing committee member for the Palmer Athletic Director candidates and received awards and scholarships including the Edith Cronk Memorial Scholarship, the Certificate of Proficiency in Clinical Orthopedics of the Extremities, the National Board of Chiropractic Diplomat, and the American Legion Scholarship.
Dr. Higley has had the honor of treating many of the superstars of the World Wrestling Federation (WWF). He continues to treat the talent of the WWF when they appear in the Richmond area. See his scrapbook here.
Dr. Higley enjoys sports activities, spending time with his wife and children, and treating chiropractic patients. He believes very strongly in health and chiropractic.
After working in one of Richmond's largest chiropractic clinics for over two years, Dr. Higley opened his own clinic on December 6, 1999. Dr. Higley treats an array of conditions including, but not limited to, headaches, neck, mid-back, and low back pain. Pain, numbness, and tingling that radiates down the arms or legs, as well as sports related work, work related, or auto accident injuries.